House Flips In Progress | Update On The Onset, MA Property
Here we are again at our Onset house flip in progress.  I had Ralph on the video camera today (I think my other video guy Ryan was out fishing - can't blame him it was a gorgeous afternoon!)
So far we have been stumbling across new findings throughout this rehab.  By new findings I mostly mean that we have had to do quite a bit of re-framing, some of which was expected and some of which was not expected.
These are the sorts of situations that make the house flipping rehab process interesting and exciting.  Of course it is important to factor these unexpected tasks into your anticipated rehab costs.
To make a real long story a heck of a lot shorter, I'm going to sum it all up by saying that we had to re-frame the entire exterior of this property.  On this house flip, the old framing was severely lacking and not up to code.
You will notice in the above video that we closed off the room that was located directly next to the front porch.  This room will soon be a nice spacious bedroom.  Previously this room was a small, awkwardly placed room that was mostly used for storage purposes.
With regards to the framing work, we've installed all new 2 x 4's with 16 inches on the center to bring the house up to code.  We also noticed that none of the windows had headers, so we went ahead and installed headers on each window as well. As we often deal with older, run down real estate, installing new headers for support and new framing is very common in many of our house flips.
The old kitchen has been turned into a "bonus" room of sorts.  This room could be a breakfast nook or just a nice place to sit and enjoy a cup of coffee.  We put in a brand new slider that will allow a lot of natural light into the nook.  The slider will open up to a new deck that we plan to install which will overlook the back yard.
The new kitchen will go right next to the breakfast nook.  We have some creative house flipping plans underway with our local architect, which will include a new sink with a window conveniently located directly above it.  There will be plenty of space in the new kitchen for chairs, a table and of course a refrigerator.
So far I am very pleased with the progress we have made on the first floor of this house flip.  Now lets check out upstairs.
House Flips in Progress | Second Floor at the Onset Property
We opened up the second floor hallway to allow more light to shine through to the space.  The old wall in the hallway went straight up to the ceiling which made the hall feel a little claustrophobic.  Because of this we cut down the old wall and made it into a half wall; which will be much better for the future homeowners.
We kept the second floor bathroom exactly where it was, however we relocated the door and basically changed the entire configuration of the bathroom.  We added a stand up shower because we could not fit a bath tub into the space due to the new HVAC unit.
The refurbished home will now have 2 full baths which will work out just fine.
The entire second floor will also have new plumbing and electrical - basically a complete gut job.  We also heightened the ceiling in the hallway which will be a nice selling feature.
An even nicer selling feature is the new master bedroom.  If you recall from the previous Onset post, this particular room used to be two separate rooms.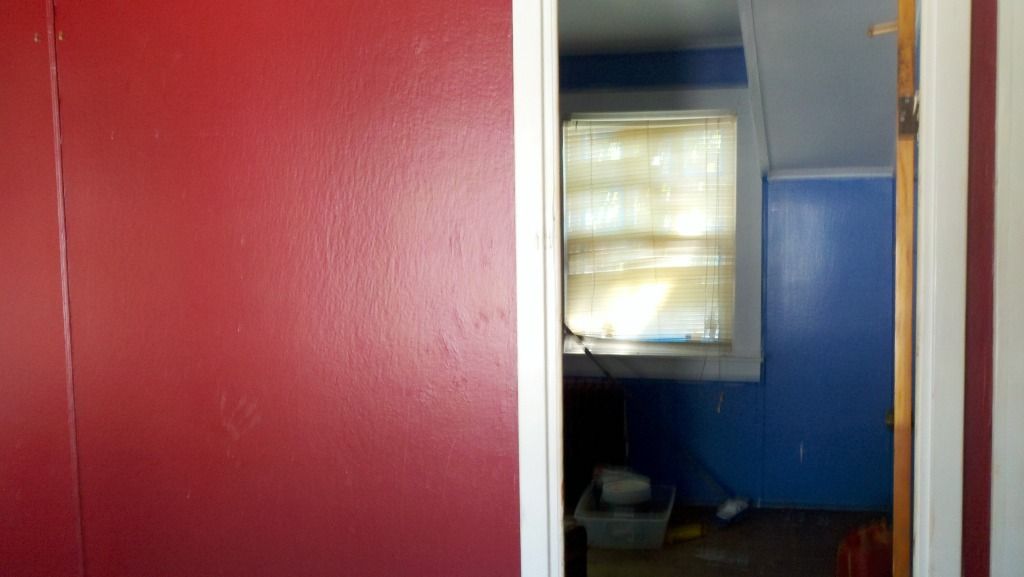 The red wall in the above photo is what we refer to as a "non load bearing wall."  Because this wall was not essential to the overall integrity of the home, we had no trouble at all removing it.  Taking the wall down did not cost much money or require a lot of time.
House Flip Tip | Value Added Service without Spending the Big Bucks
With the wall now gone the master bedroom is very spacious.  In addition to removing the wall we also heightened the master bedroom ceiling.  Where there used to be a congested room we now have a large bedroom space with a cathedral ceiling - an awesome selling point!
The rehabbing to the master bedroom is just one example of a value added service that will enhance the appeal of the home without incurring any major additional costs.
Often times with house flipping, a little creativity can go a long way.
I'll be sure to post another update on this property soon.  We still have plenty of work left to do on the interior and exterior of this home, as well as some landscaping to do around the yard.
Stay tuned for further updates!  And of course don't forget to give us a "Thumbs Up" on our new Facebook page - just click here - I really appreciate it!
See you at the top,
Mike